Boost your sales by transporting your prospects to immersive environments!
Grab your prospects' attention
Maximise your conversion rates! Remote immersive industrial demonstrations have become a new standard. So you have to find new attention-grabbing, innovative and intriguing ways of enticing your customers online.
A new tool in your sales kit
60% of the purchasing process is carried out by prospects themselves on the internet.
The virtual showroom gives you the opportunity to present your business, product range, service or use cases and immerse your audience right in the heart of your demonstration.
Thanks to WebXR technology, you can broadcast your virtual showroom via a web browser on the device of your choice: PC, tablet, smartphone or virtual reality headset. As such, you can use this immersive experience either remotely, or during a meeting or trade show!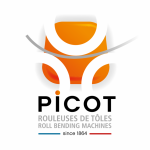 Founded in Lyon in 1864, AMB Picot supplies its customers with roll bending solutions tailored to their needs. The company has distributed more than 5,000 roll bending machines across the globe. It is known for its technical expertise in machine tools. The advice it provides is based on many years' experience in roll bending technology
Like many innovative companies in the industrial sector, AMB Picot wants to boost its sales and emphasise its competitive edge to new customers, both at home and abroad. The issue of distance and travel crops up repeatedly in pre-sales, and has been even more significant over the last few months. How can you establish an effective and meaningful relationship with a remote prospect?
AMB Picot wanted an innovative solution in addition to its existing SEO tools to enable it to:
Take a prospect to the heart of the AMB Picot universe by means of an online solution
Introduce an element of surprise and make people want to find out more about the company's technology and services
Convince potential customers of AMB Picot's ability to provide a specific solution for their needs
Speedernet used WebVR technologies and its Speedernet Sphere authoring tool to create a personalised immersive experience consisting of 360° panoramas and information pop-ups. These panoramas use existing sales literature in the form of photos, videos and pdfs, along with Solidworks CAD models with high-quality photorealistic rendering.
In September 2020, AMB Picot unveiled this new experience to its prospects and dealers. Early results show that the objective of introducing an element of surprise and making people want to find out more has been fully achieved.